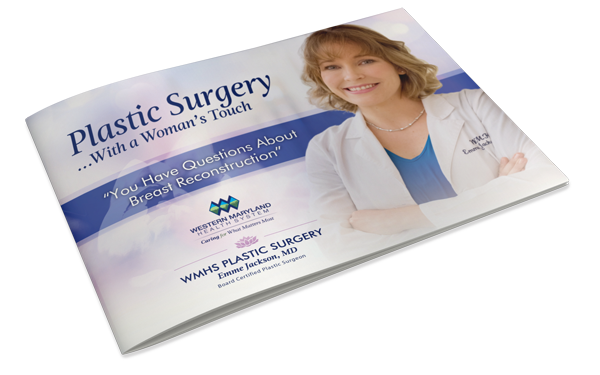 Does Insurance Cover Plastic Surgery?
It's not uncommon for plastic surgery patients at UPMC Western Maryland to be concerned about paying for their procedure. When it comes to insurance coverage, most companies require customers to have a valid medical need for the procedure in order to cover it. Almost all insurers will deny payment for a plastic surgery procedure that is strictly to improve appearance. However, patients should call their insurance company with information about the specific procedure to find out for sure.
What Makes a Plastic Surgery Procedure Medically Necessary?
As a general rule, people need reconstructive surgery to correct a problem caused by a birth defect, accident, or a specific disease. Some examples of these include surgically correcting a nose deformity, reconstructing facial bones due to trauma sustained in a car accident, and providing a woman with breast reconstruction after she had one or both breasts surgically removed due to cancer.
On the other hand, insurance companies would deny a voluntary nose surgery to improve appearance, dermal fillers in the face to reduce signs of aging, and a breast augmentation or lift for cosmetic purposes. Since each insurance company has different rules, it is up to patients to check their coverage before they schedule plastic surgery.
Financing Options for Plastic Surgery
One of the most popular ways to pay for an elective cosmetic procedure is with Care Credit. This company finances only out-of-pocket expenses for medical procedures and devices such as plastic surgery, Lasik eye surgery, glasses, and hearing aids. Care Credit offers several interest-free borrowing options to qualified applicants. (Link to www.carecredit.com)
In most plastic surgery practices, patients have the option of putting the entire balance on Visa, MasterCard, Discover, or American Express. The downside is they will have to pay interest unless they pay the balance in full within the first month. It also goes against their credit line that they may want to keep open for emergencies. One way around this is to apply for a new major credit card with a low introductory interest rate or even a zero percent interest rate for a set number of months.
Applying for a personal loan with a bank or credit union is another way that patients can pay for plastic surgery. This is a good option for those who are concerned that they would be tempted to use a new credit card for more than the surgery.
Start Budgeting Today
Plastic surgeons typically provide patients with a cost estimate for their specific plastic surgery procedure at the time of the personal consultation. This gives them the opportunity to put money aside in a savings account and then schedule the surgery once they have enough funds to cover it. The downside is that it may take people a long time to save for the surgery and the cost may increase by the time they are ready to schedule it. Patients should also check to see if plastic surgery expenses are eligible under their health savings account. If so, they can pay for their procedure without having to pay income tax on the money used for it.
Please note, the information provided throughout this site is not intended or implied to be a substitute for professional medical advice, diagnosis or treatment. All content, including text, graphics, images, and video, on or available through this website is for general information purposes only. If you are experiencing relating symptoms, please visit your doctor or call 9-1-1 in an emergency.